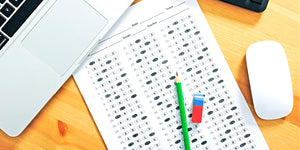 Try an actual ACT run through. Leave with your test booklet & receive the detailed LEAP Lens Report with correct answers to identify strengths & weaknesses for future practice and planning.
Upcoming Diagnostic Test Dates
December 9th at 9:30 a.m.-1:00 p.m.
January 6th at 9:30 a.m.-1:00 p.m.
Preview the LEAP Lens Report here. 
In-Person testing is at Hope Church, 4934 Western Row Rd, Mason (45040).
Students and parents will be invited to attend a free follow-up webinar to help understand the test results.  Details on this webinar will be included in the registration confirmation.
* If a student needs testing accommodations (extended time, etc.) for LEAP tests, please contact us at info@leaprogram.com.